Toothy
Proteins

This Picture shows a very useful type of Toothy Experiment called "Gel Electrophoresis". If you follow the Red Arrows, you can see that Blue Bands appear when Chalky Enamel is tested. But with strong Normal Enamel these Blue Bands are absent. Tooth Scientists know that the Blue Bands correspond to Toothy Ingredients called Proteins, and that Really Wonky Teeth have more Blue Proteins than Fairly Wonky ones. And because it is so full of Tooth Bricks, Normal Enamel does not have so much room for Proteins.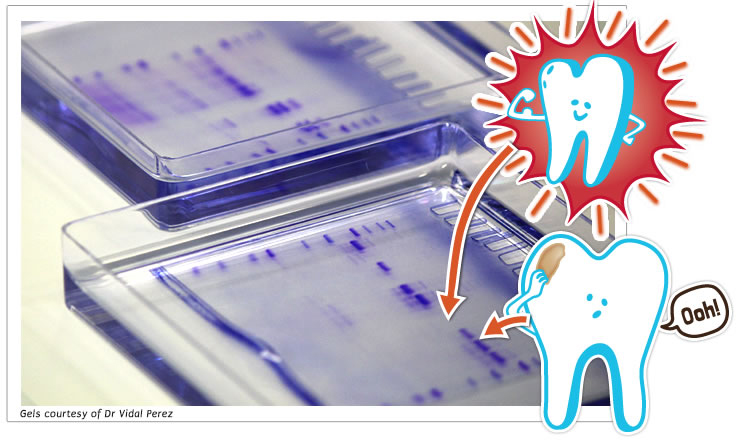 How is a Toothy Protein Experiment Done ?
Bec and Vidal will show you how they made the Toothy Protein Picture in five simple steps.
Are you ready?
STEP ONE: Bec first washed a Crumbly Bit of Toothy in some Special Liquid, to dissolve the Proteins.
STEP TWO: Vidal then carefully squirted the Toothy Liquid into a tiny space in the Testing Machine.
STEP THREE: After doing this for lots of Toothys, he was very happy to have a short rest!!
STEP FOUR: The Testing Machine was then connected to Powerful Electricity to make the Proteins form into Bands.
STEP FIVE: Finally, Bec and Vidal used a Blue Stain to make the Proteins visible.
How was that? If you liked this try out our Quiz below.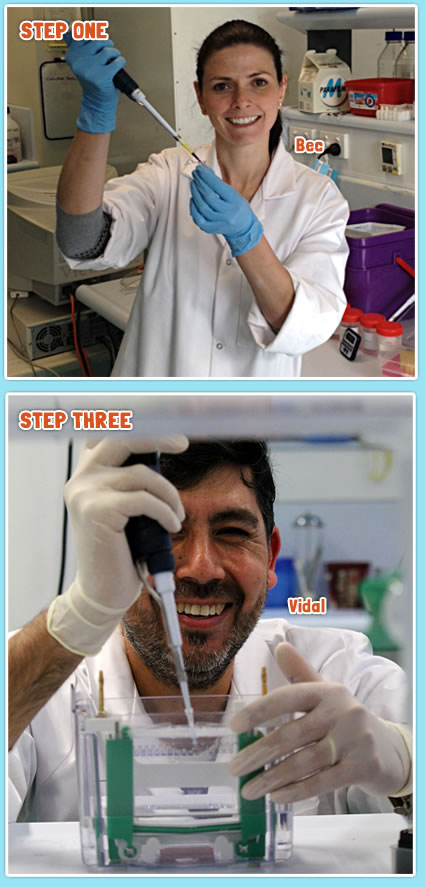 A quiz for you about TOOTHY PROTEIN EXPERIMENTS
QUESTION 1
Can you believe that Vidal is
a Kids' Dentist who was learning to be a Tooth Scientist?
QUESTION 2
Now you might have already guessed that Bec did some Tooth Science while training to become a Kids' Dentist (this is
true). But can you guess what
else she did as part of her
special training?
Hint: you are looking at it now!!
QUESTION 3
How many Control Buttons can you count on the Computerised Power Supply?
GOT A QUESTION?
Email: TheToothScientist@thed3group.org