International Members & Friends of D3G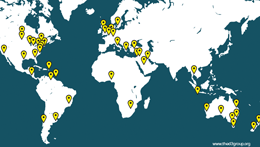 Since 2017 when D3G Down Under membership was internationalised, we've been joined by a steadily growing number of colleagues from around the globe. This erudite group of "overseas buddies" who share our interest in D3s is amalgamating around a strong scientific core of investigators who participate in the decades-old series of international symposia on enamel science (see report on 2016 meeting here, and 2022 proceedings here). You'll find the list below also includes various types of dental practitioner, families affected by D3s, and representatives from organisations and companies that support our mission. Currently 53 countries across 6 continents are represented by 309 members & friends (additional to those in Australia and New Zealand), most of whom have become paid-up members of D3G (see map). We're keen to embrace participation from across the global community, whether you're involved in delivery of healthcare for D3s, a recipient of it, an investigator, or have a more general interest in social good. People wishing to participate in this groundbreaking venture are encouraged to contact us and/or simply Join D3G.
Such global and cross-sector representation – boosted since 2020 by our innovative Toronto D3 Symposia – brings with it the exciting opportunity to consider what we might accomplish together as a broader collective, and also to ask what's needed to get there? Accordingly, we encourage everyone (members, friends, others) to share your suggestions and wishes here.
AFRICA
Nigeria
Morenike Folayan (Ukpong), Ile-Ife, Osun
Paediatric dentist, researcher
Elizabeth Oziegbe, Ile-Ife, Osun
Paediatric dentist, researcher
Titus Oyedele, Ilisan-Remo, Ogun
Paediatric dentist, researcher
Yewande Adeyemo, Kano
Paediatric dentist, researcher
Lola Orenuga, Lagos
Paediatric dentist, researcher
Olubukola Olatosi, Lagos
Paediatric dentist, researcher
Ibiyemi Oduyemi, Lagos
Paediatric dentist, researcher
Bamidele Popoola, Lagos
Paediatric dentist
Omobola Olanloye, Ibadan
Paediatric dentist, researcher
Obafunke Denlove, Ibadan
Paediatric dentist, researcher
Nneke Chukwumah, Benin
Paediatric dentist, researcher
Osaruogue Ota, Benin
Paediatric dentist, researcher
Nneka Onyejaka, Nsukka
Paediatric dentist, researcher
Osasu Aghimien
Paediatric dentist
South Africa
Seyi Temilola, Cape Town, South Africa
Dentist, researcher
Faheema Kimmie, Cape Town, South Africa
Dentist, epidemiologist
Kenya
Arthur Kemoli, Nairobi, Kenya
Paediatric dentist, researcher
Sudan
Hanna Abdalla, Khartoum
Paediatric dentist, researcher
Alya Elgamri, Khartoum
Paediatric dentist, researcher
AMERICAS
Canada
Bernhard Ganss, Toronto, ON
Scientist
Matilde Hernandez, Toronto, ON
Colgate scientific affairs
Michael Casas, Toronto, ON
Paediatric dentist, researcher
Laurent Bozec, Toronto, ON
Scientist
Sonia Chung, Toronto, ON
Dentist
Melika Modabber, Toronto, ON
Dentist
Gabriella Garisto, Toronto, ON
Paediatric dentist, researcher
Edward Barrett, Toronto, ON
Paediatric dentist, researcher
Ihab Suwwan, Toronto, ON
Paediatric dentist
Rachel Zilotto, Toronto, ON
Dentist
Arleen Schmidt, Toronto, ON
Dentist
Bach Nguyen, Toronto, ON
Dentist
Antonette Spagnuolo, Toronto, ON
Dentist
Will Nicola, Toronto, ON
Dentist, researcher
Sagit Nissan, Toronto, ON
Dentist, researcher
Ayala Rubin, Toronto, ON
Dentist
Erin Landman, Toronto, ON
Dentist
Stephanie Labbe, Toronto, ON
Paediatric dentist
Nashat Cassim, Toronto, ON
Dentist
Leah Mender, Toronto, ON
Dentist
Rita Chima, Toronto, ON
Dentist
Alexandra Ribalski, Toronto, ON
Dentist
Karen Stallaert, Toronto, ON
Paediatric dentist
Kelsey O'Hagan-Wong, Toronto, ON
Dentist
Jordan Albino, Toronto, ON
Dentist
Kyle Stevens, Toronto, ON
Orthodontist, researcher
Gabriella Levin, Toronto, ON
Orthodontist
Zhemeng Wang, Toronto, ON
Paediatric dentist
Sara Werb, Toronto, ON
Paediatric dentist
Shonna Masse, Toronto, ON
Paediatric dentist
Charis Luk, Toronto, ON
Paediatric dentist
Seraphina Chung, Toronto, ON
Paediatric dentist
Dora Habib, Toronto, ON
Dentist
Julie Farmer, Toronto, ON
Dental hygienist, researcher
Stephen Abrams, Toronto, ON
Dentist, industry
Brandon Linaksita, Toronto, ON
Dentist
Madelaine Jong, Toronto, ON
Dentist
Mikayla Roberts, Toronto, ON
Dentist
Dana Smith, Toronto, ON
Dentist
Shangeetha Gunasekaran, Toronto, ON
Dentist
Helen Chiu, Toronto, ON
Paediatric dentist
Natalie Arshat, Toronto, ON
Dentist
Erin Goertzen, Toronto, ON
Dentist
Aaron Miller, Toronto, ON
Dentist
Blessy Pearl, Toronto, ON
Dentist
Sarab Taha, Toronto, ON
Dentist
Olivia Dalzell, Toronto, ON
Dentist
Shivani Shah, Toronto, ON
Dentist
Linnaea Halpert, Toronto, ON
Dentist
Omar Abdallah, Toronto, ON
Dentist
Sabrina Nguyen, Toronto, ON
Dentist
Rohima Ahmed, Toronto, ON
Dentist
Sameer Malik, Toronto, ON
Dentist
Imon Pal, Toronto, ON
Dentist
Heba Abdelfattah, Toronto, ON
Dentist
Evan Zaretsky, Whitby, ON
Paediatric dentist
Marilyn Goulding, Fonthill, ON
Dentsply Sirona clinical affairs
Thomas Oper, Tecumseh, ON
Paediatric dentist
Katherine Zettle, Guelph, ON
Paediatric dentist
Sonica Singhal, Ottawa, ON
Public health dentist
Jeffrey Richmond, London, ON
Paediatric dentist
Jeffrey Budd, Greater Sudbury, ON
Dentist
Monica Basta, Vaughan, ON
Dentist
Ratna Dhalla, New Tecumseth, ON
Dentist
Brian McGuire, Russell, ON
Dentist
Kanwalpreet Deal, Brampton, ON
Dentist
Mina Dheyab, Mississauga, ON
Dentist
Nabil Ouatik, Montreal, QC
Paediatric dentist
Charles Smith, Montreal, QC
Scientist
Basma Dabbagh, Montreal, QC
Paediatric dentist
Joy Richman, Vancouver, BC
Paediatric dentist, researcher
Christine Kim, Vancouver, BC
Paediatric dentist
Jennifer Howson-Jones, Vancouver, BC
Paediatric dentist
Phoebe Tsang, Vancouver, BC
Paediatric dentist, researcher
Nancy Vertel, Vancouver, BC
Paediatric dentist, researcher
Young Tze Kuah, Vancouver, BC
Paediatric dentist, orthodontist
Robert Schroth, Winnipeg, MB
Dentist, researcher
Bukky Olatosi, Winnipeg, MB
Paediatric dentist
Nicole Brien, Moncton, NB
Paediatric dentist
Michelle Thal, Calgary, AB
Paediatric dentist
Brent Safroniuk, Cold Lake, AB
Dentist
Sheri McKinstry, Saskatoon, SK
Paediatric dentist
USA
Tim Wright, Chapel Hill, NC
Paediatric dentist, researcher
Rebecca Slayton, Seattle, WA
Paediatric dentist, researcher
Erin Masterson, Seattle, WA
Scientist
Pam den Besten, San Francisco, CA
Paediatric dentist, researcher
Ophir Klein, San Francisco, CA
Clinical geneticist, scientist
Alice Goodwin, San Francisco, CA
Orthodontist, scientist
Sarah Boyer, San Francisco, CA
Dentist
Rick Udin, Los Angeles, CA
Paediatric dentist, researcher
Mal Snead, Los Angeles, CA
Oral pathologist, scientist
Michael Paine, Los Angeles, CA
Periodontist, researcher
Janet Oldak, Los Angeles, CA
Scientist
Renata Da Fonseca, Los Angeles, CA
Paediatric dentist
Erika Nowotny, Los Angeles, CA
Scientist
Jing Cai, Los Angeles, CA
Scientist
Gayathri Visakan, Los Angeles, CA
Dentist, researcher
Elsa Castro, Fremont, CA
Dentist
Sameen Zarrabi, San Diego, CA
Paediatric dentist
Wendy Cheney, Boston, MA
Paediatric dentist
Ann Mercer, Boston, MA
D3-affected family
Felicitas Bidlack, Boston, MA
Scientist
Hakan Tuncer, Boston, MA
Paediatric dentist
Rosalyn Sulyanto, Boston, MA
Paediatric dentist, researcher
Ilana Fisher, Boston, MA
Dentist, researcher
Hakan Karaaslan, Boston, MA
Dentist, researcher
Ali Attaie, NYC, NY
Paediatric dentist
Rodrigo Lacruz, NYC, NY
Scientist
Barbara Shearer, NYC, NY
Colgate scientific affairs, NA
Emanuela Corielli, NYC, NY
Paediatric dentist
Yasmi Crystal, NYC, NY
Paediatric dentist, researcher
Veronica Powers, NYC, NY
Dentist
Liora Benichou, NYC, NY
Paediatric dentist
Jed Best, NYC, NY
Paediatric dentist
Nancy Consenza, Nesconset, NY
Paediatric dentist
Abby Shannon, Cape May, NJ
Public health dentist
Stacey Lavender, Chesterfield, NJ
Colgate, oral care technology
Venda Maloney, Metuchen, NJ
Colgate, oral care therapeutics
Alex Vieira, Pittsburgh, PA
Paediatric dentist, scientist
Ted Croll, Doylestown, PA
Paediatric dentist, researcher
Joseph Cheever, South Jordan, UT
Paediatric dentist
David Macdonald, American Fork, UT
Paediatric dentist
John Zimmer, Sisseton, SD
Paediatric dentist
Flauryse Baguidy, Aberdeen, SD
Dentist
Yong-Hee Chun, San Antonio, TX
Periodontist, researcher
Kevin Donly, San Antonio, TX
Paediatric dentist, researcher
Ben Amaechi, San Antonio, TX
Dentist, researcher
Majo Cervantes Mendez, San Antonio, TX
Paediatric dentist, researcher
Alicia Delgado, Houston, TX
Paediatric dentist
Fehmida Dosani, Houston, TX
Dentist
Janet Southerland, Galveston, TX
Public health dentist
Maria Nguyen, Irving, TX
Dentist
Matt Scribbins, Phoenix, AZ
Paediatric dentist
Eugene Roberts, Indianapolis, IN
Orthodontist, researcher
Azza Tagelsir Ahmed, Indianapolis, IN
Paediatric dentist, researcher
Mark Heiss, Chicago, IL
GC America, academic affairs
Gaurav Joshi, Chicago, IL
GC America, marketer, researcher
Kosuke Honda, Chicago, IL
GC America, marketer, researcher
Derk Joester, Chicago, IL
Scientist
Victoria Cooley, Chicago, IL
Scientist
Emmanuel Skordalakis, Sterling, VA
Paediatric dentist
Suzie Goolsby, Midlothian, VA
Dentist
Cara Graham, Savannah, GA
Paediatric dentist
Margaretta Tarver, Marietta, GA
Paediatric dentist
Carrie Arquit, Springfield, MO
Paediatric dentist, researcher
Vivian Merk, Coral Springs, FL
Scientist
Noel Childers, Birmingham, AL
Paediatric dentist, researcher
Jean Lewis, Fruitland, MD
Paediatric dentist
Jason Wan, Bethesda, MD
NIH, research program director
Tiina Urv, Bethesda, MD
NIH, translation program director
Leslee Huggins, Salem, OR
Paediatric dentist
Jeff Rhodes, Rogers, AR
Paediatric dentist
Patrick Ruck, Cincinnati, OH
Paediatric dentist
Noreen Mian, Lafayette, CO
Dentist
Argentina
Ana Maria Biondi, Buenos Aires
Paediatric dentist, researcher
Brazil
Raquel Gerlach, Ribeirao Preto
Dentist, scientist
Fabricio de Carvalho, Ribeirao Preto
Paediatric dentist, researcher
Francisco de Paula-Silva, Ribeirao Preto
Paediatric dentist, researcher
Veridiana Mantovani, Ribeirao Preto
Dentist
Ana Cristina Bezerra, Brasilia
Paediatric dentist, researcher
Soraya Leal, Brasilia
Paediatric dentist, researcher
Rita Cordeiro, Araraquara
Paediatric dentist, researcher
Kasandra Yupanqui, Araraquara
Paediatric dentist
Lourdes Santos-Pinto, Araraquara
Paediatric dentist, researcher
Emanuella Oliviera, Sao Paulo
Paediatric dentist
Leticia Arima, Sao Paulo
Paediatric dentist
Cristiane Duque, Sao Paulo
Paediatric dentist, researcher
Camila Carrillo, Sao Paulo
Paediatric dentist
Fernanda Noal, Porto Alegre
Paediatric dentist, researcher
Frederico de Sousa, Joao Pessoa
Paediatric dentist, researcher
Chile
Vidal Perez, Talca
Paediatric dentist, researcher
Karla Gambetta, Talca
Paediatric dentist, researcher
Rodrigo Giacaman, Talca
Prosthodontist, researcher
Carla Orellana-Herrera, Talca
Paediatric dentist, researcher
Sandra Rojas, Santiago
Paediatric dentist, researcher
Carlos Garrido, Santiago
Paediatric dentist, researcher
Sebastian Aguayo, Santiago
Scientist
Costa Rica
Joseph Ulate Jiménez, San Jose
Paediatric dentist, researcher
Paraguay
Alfredo Carrillo, Asuncion
Paediatric dentist
Peru
Jorge Castillo, Lima
Paediatric dentist, orthodontist
Camila Palma, Lima
Paediatric dentist
Denise Argote, Lima
Paediatric dentist
Denisse Aguilar, Lima
Paediatric dentist
Ailin Cabrera Matta, Lima
Paediatric dentist, researcher
Guido Perona, Lima
Paediatric dentist, researcher
Puerto Rico
Anna Hernandez, San Juan
Paediatric dentist
Uruguay
Maria Lopez Jordi, Montevideo
Paediatric dentist, researcher
Venezuela
Monica Rodriguez, Caracas
Paediatric dentist, researcher
Alfredo Natera, Caracas
Dentist, researcher
Trinidad & Tobago
Tricia Percival, St Augustine
Paediatric dentist, researcher
Ecuador
Ingrid Ordoñez Romero, Guayaquil
Paediatric dentist, researcher
Mexico
Jose Urena, Mexico City
Paediatric dentist
Maria Irigoyen Camacho, Mexico City
Paediatric dentist, researcher
Colombia
Manuel Restrepo, Medellin
Paediatric dentist, researcher
Gisela Patron, Cali
Dentist
ASIA
Hong Kong
Patricia Yeung, Central HK
Paediatric dentist, researcher
India
Ramesh Krishnan, Salem
Paediatric dentist, researcher
Ashima Goyal, Chandigarh
Paediatric dentist, researcher
Sonali Sukesh, Mullana
Paediatric dentist, researcher
Jordan
Rami Farah, Amman
Paediatric dentist, researcher
Feda Zawaideh, Amman
Paediatric dentist, researcher
Amal Batarseh, Amman
Dentist
Ola Al-Batayneh, Irbid
Paediatric dentist, researcher
Kuwait
Hussa Al-Bahar, Surra
Paediatric dentist, researcher
Saudi Arabia
Zahra Almuallem, Riyadh
Paediatric dentist, researcher
Amal Mudawi, Hofuf
Public health dentist
Malaz Mohammed Elrafree, Abha
Paediatric dentist
Singapore
Stephen Hsu, NUS
Paediatric dentist, researcher
Taiwan
Anthony Tsai, Taipei
Paediatric dentist
Thailand
Chanika Manmontri, Chiang Mai
Paediatric dentist, researcher
Israel
Adar Ben-Amy, Alon HaGalil
Paediatric dentist
Sigalit Blumer, Tel Aviv
Paediatric dentist, researcher
Alena Zembel, Tel Aviv
Paediatric dentist
Malaysia
Noren Hasmun, Ipoh
Paediatric dentist, researcher
Indonesia
Enrita Rahmadini, Jakarta
Paediatric dentist
Irene Adyatmaka, Jakarta
Public health dentist
Qatar
Yukti Nautiyal, Doha
Paediatric dentist
Nebu Philip, Doha
Paediatric dentist, researcher
Mongolia
Shinechimeg Dima, Ulaanbaatar
Paediatric dentist, researcher
Japan
Monica Yamauti, Sapporo
Dentist, researcher
United Arab Emirates
Dala Alhakim, Abu Dhabi
Paediatric dentist
EUROPE
Finland
Egle Immonen, Tampere
Paediatric dentist
France
Ariane Berdal, Paris
Dentist, researcher
Sylvie Babajko, Paris
Scientist
Alice Denis, Bordeaux
Paediatric dentist
Agnes Bloch-Zupan, Strasbourg
Paediatric dentist, researcher
Germany
Daniela Kappert, Weiden
Paediatric dentist
Dana Adyani-Fard, Dusseldorf
Dentist, periodontist, researcher
Karim Elhennawy, Berlin
Paediatric dentist, researcher
Christian Jerecinski, Paderborn
Dentist
Karolin Brandt, Halle
Dentist
Waike Hilsheimer, Weinheim
Dentist
Frederic Meyer, Bielefeld
Scientist
Joachim Enax, Bielefeld
Scientist
Greece
Anna Maria Vierrou, Athens
Paediatric dentist, researcher
Elizabeth Boutsi, Athens
Dentist, researcher
Italy
Sylvia Caruso, Frosinone
Paediatric dentist
Chiara Baroni, Bologna
Paediatric dentist, researcher
Stefania Morittu, Nuoro
Dental hygienist
Norway
Anne Kalvik, Oslo
Prosthodontist
Ingvild Brusevold, Oslo
Paediatric dentist, researcher
Andreas Schmalfuss, Oslo
Paediatric dentist, researcher
Romania
Carmen Onaca, Bucharest
Paediatric dentist
Christa Serban, Timisoara
Dental student
Alexandra Cazan, Bucharest
Paediatric dentist
Turkey
Ali Mentes, Istanbul
Paediatric dentist, researcher
Basak Durmus, Istanbul
Paediatric dentist, researcher
Alev Okutan, Istanbul
Paediatric dentist, researcher
Switzerland
Richard Steffen, Basel
Paediatric dentist
Claudine Bommer, Windisch
Scientist
Belgium
Bart Dopheide, Leuven
GC Europe, director
Wouter Van den Steen, Antwerp
Paediatric dentist
Netherlands
Marlies Elfrink, Almelo
Paediatric dentist, researcher
Ahmed Melak Rakkadh, Middelharnis
Paediatric dentist, researcher
Sweden
Birgitta Jalevik, Goteborg
Paediatric dentist, researcher
Adnan Hajdarevic, Goteborg
Paediatric dentist
Spain
Yndira Gonzalez Chopite, Barcelona
Paediatric dentist
Natalia Azanza, Gipuzkoa
Paediatric dentist
Hungary
Gabor Varga, Budapest
Scientist
Bianca Golzio, Budapest
Dentist, researcher
Slovenia
Luka Hocevar, Kranj
Paediatric dentist
Portugal
Luisa Bandeira Lopes, Lisbon
Paediatric dentist, researcher
Gabriela Balixa, Lisbon
Paediatric dentist, researcher
UK
England
Colin Robinson, Leeds
Scientist
Alan Mighell, Leeds
Oral medicine dentist
Claire Smith, Leeds
Scientist
Jennifer Kirkham, Leeds
Scientist
Steven Brookes, Leeds
Scientist
Bernadette Drummond, Leeds
Paediatric dentist, researcher
Helen Rodd, Sheffield
Paediatric dentist, researcher
Joana Monteiro, Sheffield
Paediatric dentist, researcher
Susan Parekh, London
Paediatric dentist, researcher
Mike Harrison, London
Paediatric dentist, researcher
Louise Brearley Messer, London
Paediatric dentist, researcher
Judi Humphreys, Liverpool
Paediatric dentist, researcher
Sondos Albadri, Liverpool
Paediatric dentist, researcher
Gisella Nakandakari, Cambridge
Dentist, prosthodontist
Fiona Remnant, Cambridge
Dental therapist
Greig Taylor, Newcastle
Paediatric dentist, researcher
Paddy Finnegan, Taunton
Dentist
Fiona Phillips, Leicester
Dentist
Scotland
Nicola Innes, Dundee
Paediatric dentist, researcher
Christine Park, Glasgow
Paediatric dentist, researcher
Alison Cairns, Glasgow
Paediatric dentist, researcher
Guy Jackson, Inverness
Dentist, researcher
Ireland
Rona Leith, Dublin
Paediatric dentist, researcher
Anne O'Connell, Dublin
Paediatric dentist, researcher
Isabel Olegario da Costa, Dublin
Paediatric dentist
Marian Ryan, Dublin
Dentist