A PROBLEM FOR SOCIETY
The relatively few people aware of D3s generally regard them as a dental problem – whether it be the affected public's need to get good treatment or the dental professional's job to provide good care.
However, because D3s often have medical origins and may affect public health, they usually involve a broad slice of society outside of dentistry, including:
the "at risk" general public whose future offspring may suffer from D3s
maternal and child health advisors
paediatricians and other medical practitioners
pharmacists and other healthcare advisors
school teachers and other educators
public health providers and policymakers
taxi drivers, hairdressers and other social commentators :-)
D3G aims to not only get D3s recognised as a social problem, but also to motivate society to do something about it. As such, we welcome contributions and membership from anyone sympathetic to our social-good mission.
Read more about how D3s (and Molar Hypomineralisation in particular) impact on the global community through huge numbers of people affected, multiple risks for their health, and massive costs for tax payers and society. And check out our public-facing educational and advocacy campaign as follows.
OUR 'CHALKY TEETH CAMPAIGN'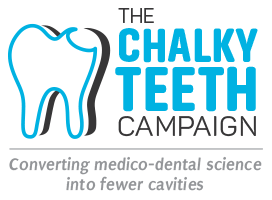 Framed around the tagline "Converting medico-dental science into fewer cavities", the 'Chalky Teeth Campaign' is a public-awareness initiative that seeks to educate about chalky teeth problems and the urgent need for research. We hope that by combining public interests with healthcare professional and scientific expertise around the world, powerful research can be done to discover cures for the most-troublesome chalky teeth conditions. Visit the campaign website here.
Our Social Impact
Reflecting our philanthropic origins and scientifically-driven humanistic mission, D3G strives to do social good for the world through our unique blend of translational research, education and advocacy – more specifically, we aim to create "social impact" by targeting the public, the healthcare sector and the medico-dental research community. When reflecting on efforts put in and seeking funds to do great new things, it's important to be able to quantify impacts already made across our target groups. The following infographic (available as PDF here) seeks to introduce "The Chalky Teeth Problem" and outline some key advances we've made in simple terms. Our text-based "Brag Sheet" provides additional information (get PDF here).