WELCOME TO D3G'

s

"TORONTO 2020+" EVENTS

Welcome to D3G's evolving "Plan B" for what has become a series of international events addressing our translational goal of holistic attack on Molar Hypomineralisation – a global problem imposing substantial burdens at individual, social and economic levels (read more).
Before the pandemic came along, we planned to hold a live symposium in Toronto during October, 2020. As things have turned out, our enforced switch to online events – first the D3 Workshop last October and now this year's innovative Research Incubator – has come with some unanticipated advantages including broader participation than might've been expected. Consequently, we anticipate that, once it eventually happens, our inaugural live Symposium will have evolved into a globally impactful vehicle for D3G's Chalky Teeth Campaign.
HOSTED BY
WELCOME TO THE WORLD-FIRST D3 RESEARCH INCUBATOR
BREAKING NEWS: FOLLOWING SUCCESS OF OUR ONLINE WORKSHOP – AND GIVEN CONTINUING CONCERNS AROUND COVID-19 – THE LIVE SYMPOSIUM WILL BE FURTHER POSTPONED UNTIL 2022 AND REPLACED WITH A RESEARCH-CENTRIC ONLINE EVENT IN OCTOBER.
INTERNATIONAL D3 RESEARCH INCUBATOR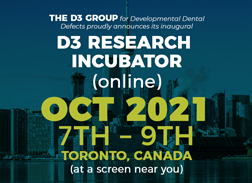 7th - 9th October, 2021

Working concept


A cross-sector

translational

event – meshing

today's pressing questions

(showcased by clinicians, public health professionals and industry) with the

latest research

(coming from student projects through to specialist labs) – that provides an unprecedented

holistic perspective

on

what research should be prioritised

to benefit society.
While primarily focussed on Molar Hypomineralisation, comparative consideration of other D3s will be welcomed.
To help organise event design & scheduling, expressions of interest are sought from researchers keen to share their findings, whether they be D3-related or underpinning fundamentals (e.g. enamel science, preventive dentistry).
Contact: toronto2020@thed3group.org
HATS OFF FOR THE WORLD-FIRST WORKSHOP ON D3
s
Our ground-breaking Translational Workshop on Molar Hypomineralisation and Chalky Teeth is over – hats off and thanks to everyone for making it such a wonderful experience! Who would believe such a breakthrough cross-sector gathering, involving 35 presenters from 16 countries, could succeed in the midst of a pandemic?
For those who missed it, this unique event remains available as a comprehensive Continuing Education (CE) pack, offering up to 7 CE hours of study with prices starting at only AU$50. Watch our 3-minute video trailer here, learn more about the D3 Workshop here, and register for the CE pack here.
WELCOME TO THE WORLD-FIRST SYMPOSIUM ON D3

s
THE LIVE SYMPOSIUM IS BEING FURTHER POSTPONED UNTIL IT'S SAFE FOR EVERYONE TO TRAVEL AND NETWORK – so please bear with us until 2022.
"Plan A", from 2020
We proudly announce D3G's inaugural International Symposium on Molar Hypomineralisation and Chalky Teeth. This breakthrough event is an exciting step in our "Chalky Teeth Campaign" – a pioneering public-awareness initiative highlighting that, if appropriate research is done, much tooth decay should become preventable through medical intervention ("Healthier Babies = Stronger Teeth"). Such an advance would have massive social impact given that 1-in-5 children worldwide have "chalky molars".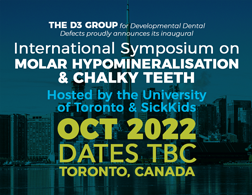 This symposium prompts a "cross-sector call to action" and will use a translational approach to formulate key questions aimed at improving management of, and ultimately preventing, Molar Hypomineralisation and other types of chalky teeth. Aspects covered will include population health, clinical management, research, education, and science translation through to improved policy and products.
As elaborated below, we invite interested parties from academia, health professions, government and industry to help develop a collaborative event that is not only memorable but also transformative for social good.
Happily, we note that definitions of "symposium" convey not only lots of hard work (i.e. erudite discussion about a specific topic) but also the idea of fun (i.e. a convivial party, as after a banquet in ancient Greece). So, should others happen to agree, we propose that plenty of time be allowed for networking across the ever-expanding "D3 family".
Please feel encouraged to share the Symposium flyer (see below) and to contact us at toronto2020@thed3group.org
KEYNOTE SPEAKERS – TRANSLATIONAL THEORY & PRACTICE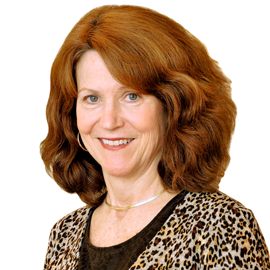 Jane Atkinson (NIH, USA): What is science translation and why plan for it early?
We feel privileged and are thrilled that the world authority on translational science, USA's National Center for Advancing Translational Sciences (NCATS), has provided a keynote speaker/facilitator to guide our collective thinking throughout this event.
Jane Atkinson directs the clinical Trial Innovation Network at NCATS and as such holds a wonderful perspective on how D3G might develop a global research network to attack the chalky teeth problem. And if that wasn't great enough, Jane is a highly experienced dentist and researcher who spent many years working at NIH's National Institute of Dental and Craniofacial Research (NIDCR). Read more about Jane here.
A big thanks to Christopher Austin (Director, NCATS) for making this possible, and to Jason Wan (NIDCR) and Eric Sid (NCATS) for facilitation.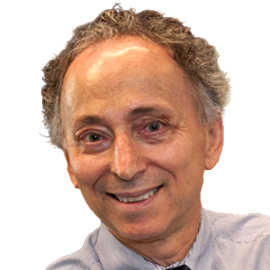 Stanley Zlotkin (SickKids, Canada): My translational journey from lab to social good
It's hard to imagine a better inspiration for our D3 movement than Stanley Zlotkin and his Sprinkles Global Health initiative. Challenged by UNICEF to do something about childhood malnutrition 20 years ago, Stanley has since used science, wisdom and social entrepreneurship to deliver a culturally-refined product to help 15 million children in 60 developing countries annually. This herculean showcase for end-to-end translation has earned widespread recognition including Canada's top civilian honour and professional awards for knowledge translation and humanitarianism. This remarkable story also has a dental twist.
Trained as a paediatrician and researcher with a PhD in nutritional sciences, Stanley is founding director of the Centre for Global Child Health at Toronto's SickKids hospital, and professor of paediatrics, public health sciences, and nutritional sciences at the University of Toronto.
Read more about Stanley and Sprinkles here, here and here.
SYMPOSIUM THEME – "ATTACKING KEY QUESTIONS"
(DISCUSSION DRAFT)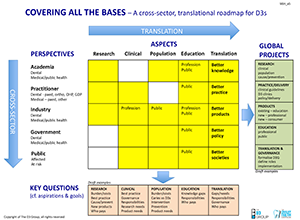 Now that the D3 field is developing into an international movement that's both cross-sector and translational, a wonderful opportunity exists to improve global health through a networked approach. This advance in turn begs for a "translational roadmap" that takes us from today's beginnings through to a holistic effort directed at improving management of, and ultimately preventing, major D3s (download draft concept chart here). Fundamental to such a framework will be a staged set of questions that are pivotal regards where we're headed and approachable by today's capabilities. In turn, such key questions will underpin the conceptualisation of worthy global projects that can be approached translationally. (read more)
Please help us design this collaborative event

We think the following possibilities stem logically from what D3G has accomplished to date and aspires to achieve in the future, but they remain far from concrete – so please put your thinking caps on and send us any thoughts regards improvement and/or endorsement.
A. Addressing goals for the Symposium and thinking translationally, a first step is to ask "what needs to be discussed, and by whom?". The latter seems obvious given D3G's unique cross-sector foundations (see D below). And while the former might sensibly focus on highly prevalent Molar Hypomineralisation and its links to childhood tooth decay, the contextual importance of other D3s (including AI, fluorosis and enamel hypoplasia) should also be recognised. (read more)
FAQ
s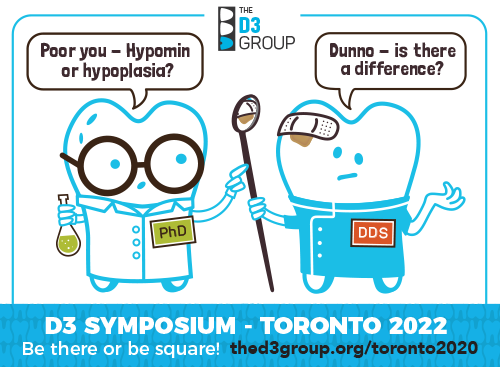 Please keep a regular eye on this "Frequently Asked Questions" section, respecting that answers may change as the event takes shape.
Anybody with a constructive interest in D3s and social good, per the membership criteria for D3G.
Can I present at the symposium?
Yes, there'll be multiple opportunities to share your knowledge and interests – not only the results of formal research, but also anecdotal ideas and evidence that could inspire new research:
poster sessions for those wanting to present research findings in the classical way;
various discussion sessions (think-tank, breakout, networking), either directly yourself (audience participation) and/or via session moderators and panellists;
some participants will be invited to do scene-setter talks and/or join panels based on their experience (published & unpublished)
I've heard many scientists will be attending – will discussions be too complicated for me as a practitioner?
No, the group discussions will avoid complicated language as this is a translational event involving not only practitioners and scientists but also other stakeholders including the general public. Hence, just as the onus will be on scientists to tone down their "technobabble", so too will clinicians be required to talk in accessible language (see D3G's translational vernacular).
And yes, we think this event will attract many scientists interested in working on an exciting new area of healthcare – which of course is a great thing for the field moving forward. Moreover, ability to speak in "D3 plain language" will undoubtedly benefit everyone's applications for research funding.
Symposium flyer & Advertising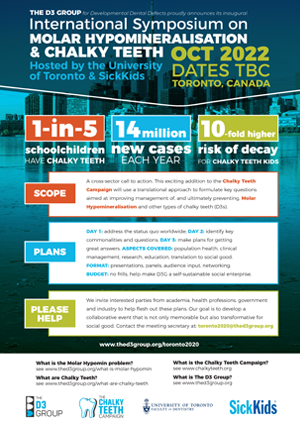 The D3 Symposium flyer is available to download here – please share it amongst colleagues and stakeholders across the sector.
We also have other advertising content available for websites/newsletters etc – please contact us if you're in a position to help promote this event.
EVENT REGISTRATION & BOOKINGS
Registration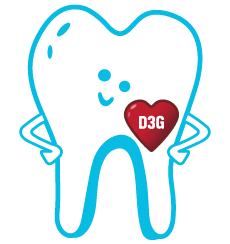 Given intense interest and the desirability to cap numbers (for quality reasons), we'll be making pre-registration available to D3G subscribers (existing and new) shortly – members will be alerted by email when this option becomes available.
Venue and accommodation
The symposium will be held at University of Toronto's Chestnut Conference Centre in the heart of downtown Toronto (map).
We ask that participants be responsible for their own accommodation bookings. Watch this space for recommendations and discount offers.
Visiting beautiful Toronto in the fall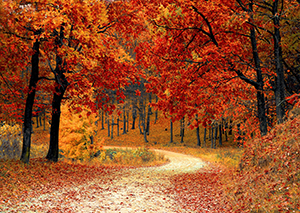 While attractive throughout the year, Toronto garners worldwide acclaim for exceptional beauty during autumn – i.e. "in the fall" – when its numerous trees put on a wonderfully colourful display before donating their leaves to winter.
Here are some helpful websites for planning what to do before and after the symposium: