WHAT HAPPENS
AT
THE DENTIST?
WHY DO I HAVE TO VISIT THE DENTIST?
Most Chalky Molar Kids get to go to the Dentist, just like Sam and PJ. This is a good thing to do because Dentists know how to make a sore Toothy get better (like PJ's). They also know how to stop Potholes from getting big and sore (like Sam's). Visiting the Dentist is much the same as going to other places that fix things. Maybe you have seen a Garage where cars get fixed? At both places there are lots of interesting machines and tools and other bits and pieces. Of course there are different people doing different jobs, and some sounds and smells you have not met before. But all this is easy to get used to, especially when you ask questions.
WHAT WILL HAPPEN THERE?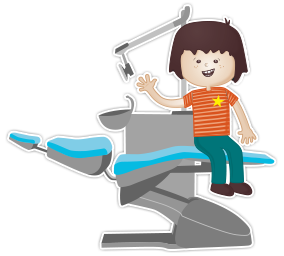 Dentists love Curious Kids. So it is a good idea to ask everyone about all the things that look interesting, or a little bit weird even. And if you are really lucky, you might get to discover where the Shiny Stickers are kept. Lots of Dentists give their Most Curious and Happiest Kids a Cool Sticker just before they leave.
As with fixing a car, the first job at the Dentist is to figure out what is wrong. We guess you already know what this involves with your Toothy – lie down on the Dentist's special chair, cool safety glasses on, bright light on, open your mouth wide, and do not forget to
keep breathing. Breathing gently through your nose
is best, if it's not snotty that is!
WHAT IS AN X-RAY PHOTO?
If the Dentist wants to look inside your Toothy or jawbone, you will get to have a special sort of photograph taken. This is called an X-Ray Photo. Amazingly these X-Ray Photos can see through skin and bone, so the pictures look a bit like a Skeleton. Because the Dentist wants to see your special Toothy and no one else's, everyone except you will have to stand at the door while your X-Ray Photo is taken (it will only take a moment). And you also have to keep very, very still until the X-Ray Camera goes "beep". Otherwise your Skeleton Photo will turn out fuzzy and be really hard to see. Some kids do silent counting in
their head (1 second, 2 seconds, 3.....) to help them keep still.
Want to see some real X-Ray "Skeleton Pictures" and learn more about What Happens at the Dentist?
HOW CAN I MAKE IT FUN?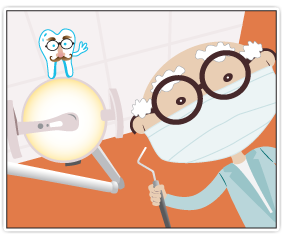 Sometimes all the Looking and Asking and Umming and Ahhing can take a while. So there are Lots of Tricks other kids do to stop getting bored – like watching your Dentist's eyebrows and counting the hairs, seeing what's reflected in their glasses, dreaming silly stories about the Dingly Dangly Things on the ceiling..........there are lots of fun things you can do!
HOW WONKY IS MY TOOTHY?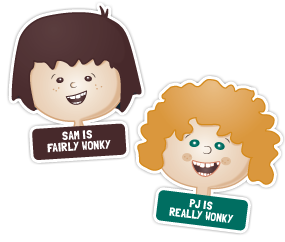 Once everyone has agreed on what is best for you, the next step is to start the repairs. What happens here depends on whether your Toothy is like PJ's or Sam's. Can you remember? Sam had one Toothy that was "Fairly Wonky", and another that was just "A Wee Bit Wonky". And PJ had a "Really Wonky" one that needed bigger repairs.
So if you know how Wonky your Toothy is, go ahead and push the right button to find out more.