THE D3 GROUP FOR DEVELOPMENTAL DENTAL DEFECTS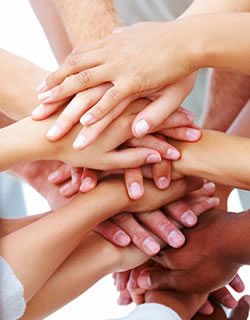 Welcome to The D3 Group (D3G) and our Online Education Resource. Formally we are a translational research and education network spanning the Developmental Dental Defect (DDD = D3) sector originally in Australia and New Zealand (the Hub) and increasingly around the world. But actually we are an eclectic bunch of individuals whose lives have been touched by D3 problems one way or another.
Some of our families have experienced D3s first hand, many of us care for people with D3s either as dental practitioners or public health professionals, and many others are engaged in D3 research and education. We are also pleased to have a growing number of medicos and D3-savvy folk from industry amongst us. 
All of us share the vision that teaming up and pulling together in a global "D3 family" effort will help get "chalky teeth" problems such as Molar Hypomin, AI and allied tooth decay recognised better, understood better, and cared for better. Our overall mission is to make many of these problems go away through prevention... read more >>
D3G INITIATIVES FOR SOCIAL GOOD
We seek a major reduction in childhood tooth decay through research into chalky teeth and allied education. Please visit The Chalky Teeth Campaign website for an easy introduction to the world of D3s. There you'll also find our three social-good initiatives (We Fight Chalky Teeth network, Healthier Babies = Stronger Teeth, Sam's Story Club) that target the "Chalky Teeth Problem" from complementary angles. Read more about D3G's social impact here.
THE D3 GROUP NEWS
News & meetings


A

breakthrough study

into the pathological origins of "chalky enamel" was published in June by D3G's lead biomedical researchers...


16/07/20 | More
D3 in The Clinic

A potential association between asthma and demarcated opacities – and hence Molar Hypomin – was first investigated by...
 
16/07/20 | More
D3 in The Lab

Medical scientist

Bernhard Gottlieb

first addressed what makes enamel chalky 100 years ago. This question and the allied mystery...
 
16/07/20 | More
SUPPORTING THE D3 GROUP
Spread the word – anyone and everyone can help a lot simply by spreading the word about chalky teeth and our D3 network. Please talk about it to your friends, to school staff, to dental professionals and to politicians – indeed to anyone who will listen! General awareness of these D3 problems can only be improved.

Support the science – you may be asked to participate in trials or to donate specimens. The D3 Group is uniquely positioned to bring a powerful team-based approach to D3 research, which enhances our potential to make strong advances that help people worldwide.

Help with funding – quality research usually costs a lot and research funds are hard to come by. And despite many generous contributions of time and cash to help run the show at D3G, we still have plenty of bills to pay (just like any other family). D3G is aiming for eventual self-sustainability as a social enterprise that supports prevention-oriented research. But to get there, we need a helping hand from our beneficiaries in "chalky teeth land" and/or those interested in social impact. To learn more about giving opportunities and our current fundraising goal, please visit here.
Instigator

The D3 Group is a translational research initiative of the MRUFD.