MY TOOTH
IS A
WEE BIT WONKY
WHAT DOES A 'WEE BIT WONKY' LOOK LIKE?
Okay, so maybe you are like Sam who had one Toothy that was just a little bit unusual. Heaps of kids have this and lots do not even know it. The damaged part of Toothy is kind of like a Bruise which looks a creamy colour instead of normal white. And luckily the Bruise does not hurt when the Dentist sprays water on it. This means the "skin" on the surface has not been grazed away.
HOW WILL IT BE FIXED?
These Bruised Toothys are easy things to fix. And maybe you have already had it done at the School Dental Clinic?
What needs doing is to cover Toothy with a fancy kind of White Paint. This works a bit like a Sticking Plaster. The White Plaster will help stop the "Plaque Bugs" from digging a hole in Toothy's Bruise.
WHAT ARE PLAQUE BUGS?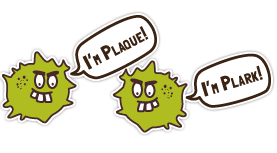 If you do not know much about Plaque Bugs, and how to brush them away, then we will tell you all about it if you click here. And if you do not know how to say the word "Plaque", then just pretend it is spelled "Plark". (listen here).
WHAT WILL HAPPEN WHEN MY TOOTHY IS GETTING FIXED?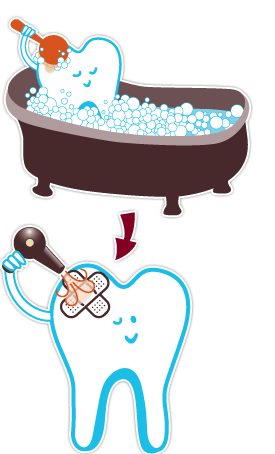 Before putting on the fancy White Paint, the Dentist will give Toothy an extra good clean. This is done with a special type of Polishing Machine. The Polisher makes a buzzy noise and feels a bit like an electric toothbrush.

And once the Wet Paint is in place, the Dentist might zap it with a Buzzy Light Beam. This makes the White Paint set hard.
Afterwards, you will be told how important it is to keep Toothy nice and clean. And do not forget the other teeth too! Remember to tell the Dentist you know all about Plaque Bugs and why it is important you do not feed them too much sugar.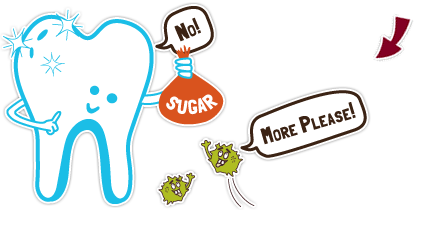 HOW WONKY IS MY TOOTHY?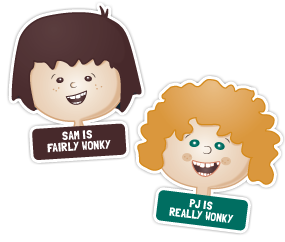 If you think your Toothy is different to this, go ahead and push the proper Wonky Button to find out more.