UPCOMING EVENTS
Save the date: New Zealand Dental Association, CPD event, in association with D3G
Last Update - 14th November, 2018
Chalky teeth, soft enamel, brown spots.... what's it all about?
Auckland Friday 22nd February, 2019
Christchurch Saturday 23rd February, 2019
Full-day seminar, 6 CPD hours
---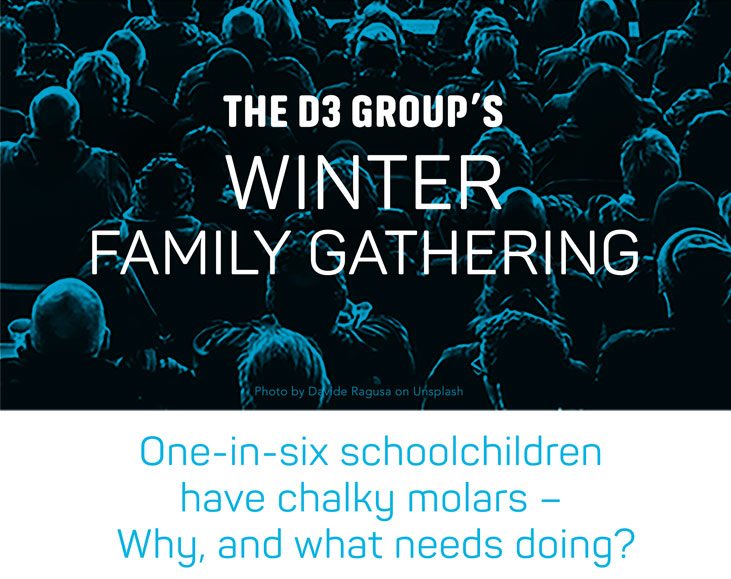 SCIENTIFIC NETWORK MEETING & FUNDRAISER, MELBOURNE
POSTPONED, new date TBC
Last Update - 24th August, 2017
SO MUCH has happened since our last big party, but at last the Secretariat's heads are sufficiently above water to organise another D3 family gathering. This educational+celebratory event is divided into two main parts (afternoon, evening), each with their own content and flavour.
First, by popular request, we're serving up our Science and Networking recipe, starting with a tasty set of lectures followed by a panel discussion (2.5h CPD) and then mingling over drinks and nibbles. Five speakers will discuss key facets of the Molar Hypomin problem, addressing relevance to the various healthcare professionals who must deal with it (from dental therapists through to specialists and public health). Hosted at the University of Melbourne's Bio21 Institute.
Second, Henry Schein* is kindly hosting a gala fundraiser at their premises (handy to UniMelb). Addressing the overall theme "You've got questions, we've got answers", an exclusive "classified" lecture from D3G director, Mike Hubbard, is followed by a Q&A session where you can quiz D3G leaders (1.5h CPD) – here, in exchange for attendees having spilled some cash, we'll spill a few beans about upcoming research news and initiatives. Plus a special D3-flavoured auction and networking before and after. We encourage early registration because seating for this premium event is very limited. And please note, by special arrangement with "Good Karma Inc.", support for this fundraising appeal is also accepted from those unable to attend (see here).
Watch this space for updates, and Join our email list to keep up-to- date with this event and other D3 news and happenings.
EVENT FLYER
Available here. Please feel free to distribute to interested parties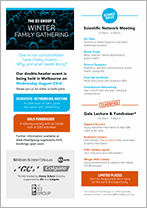 SPEAKERS
See speakers and topics here
BOOKINGS
POSTPONED, but for Good Karma donations CLICK HERE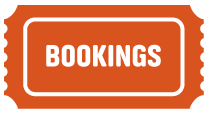 DAY SHEET
Subject to alteration, as usual
1. TRANSLATIONAL RESEARCH
University of Melbourne, Bio21 Institute, 30 Flemington Rd, Parkville
2.00pm - 4.30pm
Scientific lectures (2.5h CPD for scientific talks and panel)

Scope:

basic science, clinical applications, public health
relevance for therapists/OHPs, GDPs, paediatric dentistry, orthodontics

Confirmed speakers:
Marilyn Owen – paediatric dentist, Hobart
Arun Natarajan – paediatric dentist, Christchurch
Michael Zhao – orthodontist, Melbourne
John Rogers – public health dentist, Melbourne
Geoff Adams – dental epidemiologist, Melbourne
4.30pm - 5.00pm
Panel discussion, audience Q&A


"One-in-six schoolchildren have chalky molars – why, and what needs doing?"

Scope: review the science, identify common concerns, hatch plans
Panelists: scientific speakers & other subsector representatives

5.00pm - 6.00pm
Translational networking over drinks and nibbles
2. OPTIONAL AFTERS
Local pub TBC
From 6.00pm
Excellent grub at a local pub (we organise a group booking only)
3. GALA FUNDRAISER
Henry Schein, Level 9, 369 Royal Parade, Parkville
6.30pm - 7.00pm
Refreshments, networking and welcome from hosts
7.00pm - 8.00pm
Exclusive lecture (1.5h CPD for scientific talk and panel)


"A classified look at the chalky molar story"




insights to the thinking behind D3G
previews of unpublished research & forthcoming D3G initiatives

Speaker: Mike Hubbard - D3G founder/director
8.00pm - 8.30pm
Q&A with a panel of D3G insiders:


"You've got questions, we've got answers"



Panelists: Mike Hubbard, Sharon Dunn, Anu Pande, Paul Schneider & Karen Kan
8.30 - 9.00pm
Special D3-flavoured auction, networking and closing words
4. OPTIONAL AFTERS
Local bar TBC
From 9pm
Networking and educational reflections over drinks
*Henry Schein Victoria, supported by GC and Colgate
PAST EVENTS
2017
D3G'S first offshore network meeting (San Francisco): Report
March 2017
Spurred by burgeoning interest in internationalising D3G plus a timely gathering of researchers (IADR General Session), our first offshore network meeting was held on Friday 24th March at an Irish pub in San Francisco. Totally impromptu and organised on the spot by Mike Hubbard, this milestone event was attended by 8 people originating from 7 countries, with lecture clashes and short notice preventing many others from participating. Despite a rowdy environment (sitting under a big screen during an Irish football match, no less), we managed to toast the launch of overseas membership in D3G ("International friends of D3G") and exchange ideas about useful next steps over a scrummy pub lunch. It was agreed by all (plus many other RSVPs) that this "D3G pub meeting" was a great recipe that must be repeated – but preferably with longer notice (sorry about that).
---
2013
Official launch of D3G's website and medico-dental initiative: Report
August 2013
Following pre-launch to the dental community in April (a success, judging from >9,000 website visits since!), the public launch of D3G's online education initiative took place at the Royal Dental Hospital of Melbourne on Saturday 24th August. The translationally-themed event started with 6 lectures from postgrad students/graduates addressing diverse aspects of Molar Hypomin. These talks, heard by >70 attendees, were notable not just for their quality but also for the "world first" explanation and exclusive use of D3G's draft terminologies.
The hour-long official launch then started with "D3G family" representatives giving personal perspectives on Molar Hypomin – this involved a "Hypomin Mum" and her dentist, a hospital dentist, a South American dentist, and three industry reps (coincidentally, one with Hypomin!). Next, dental research pioneer Grace Suckling was bestowed as D3G's patron (see news item below) and website authors Mike Hubbard, Bec Williams and Sharon Dunn described how the website evolved "from dream to reality".
Maria Myers, representing MRUFD benefactors Allan and Maria Myers, then launched the website by cutting an on-screen ribbon. As commemoration, Maria was presented with the first glossy-print copy of the Sam storybook, which had been dedicated to her and Allan. Next, our collaborative intent to have "Doctors+Dentists+Scientists" work together to combat "D3-caries" was announced by Sharon Goldfeld, representing the Royal Australasian College of Physicians. This exciting advance stems from D3G's recent involvement in RACP's Oral Health strategy and allied liaison with the Royal Australasian College of Dental Surgeons (see news items below).
The event was closed after open discussion about D3G's future. A networking session followed, after which many attendees translated to a gourmet pub for further discussions. We gratefully acknowledge all those who contributed to this milestone event, including our financial supporters (Colgate, GC, A-dec, Acteon, Wrigley, MRUFD). 
For further information (including pictures) click here. 
---
Launch of D3G's "Chalky Teeth" media campaign: Report
August 24th 2013
Despite much effort to make the website "public friendly", media consultants advised that further simplification was needed to capture public attention – hence D3G's "Chalky Teeth" campaign was born. As step one, attention was drawn to the high prevalence of Molar Hypomin (i.e. 16%, or 1 in 6 kids, as averaged from 42 studies worldwide). Following distribution of a media release, a media call was held on launch day at the Dentistry Department of Royal Children's Hospital, Melbourne.
The ensuing broad coverage on national TV, radio, and newspapers was pleasing, as was the international spillover. Within a week, over 40 reports had appeared worldwide, prompting a major surge in website traffic. We gratefully acknowledge the eight D3G members who participated in this milestone event, particularly "Hypomin Kid" Luke Ditcham and his Mum, Vicki.
For further information about the Chalky Teeth media campaign go here.
---
Website pre-launch events: Report
April 2013
After three years in development, D3G's new website was unveiled at two dental events held at the Melbourne Convention Centre. The first presentation (3rd April) was made to specialist paediatric dentists at the annual meeting of the Australasian Academy of Paediatric Dentistry by D3G co-directors David Manton and Mike Hubbard. Three days later, Mike lectured to the broader dental community attending the 35th Australian Dental Congress. In anticipation of the forthcoming "official public launch", attendees at both gatherings were encouraged to contribute to ongoing development of this innovative educational initiative.