The Hub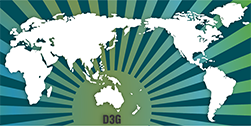 The D3 Group (D3G) is based in Melbourne and our "D3 family" officially spans Australia and New Zealand, a region known by many as "the land Down Under". Spreading from this Antipodean hub, our efforts are increasingly being appreciated around the world and we now have many international friends keen to participate and help. So, eight years after D3G started, we are introducing an "International Friends" membership in 2017, hoping that this will provide a useful stepping stone for effective globalisation of "the D3 movement". With this pleasing expansion of our
D3 family, it now becomes necessary to rebadge our Antipodean core as
"the hub" of a global effort – and so what could be better for this purpose
than "D3G Down Under"?
D3G Down Under
D3G currently has more than 250 members and supportive friends across Australia and New Zealand. A selection is listed below to illustrate the breadth of our "D3 family".
Basic laboratory research
Mike Hubbard, Paediatrics & Pharmacology Depts, University of Melbourne
Jon Mangum, Pharmacology Dept, University of Melbourne
Joseph Palamara, Melbourne Dental School, University of Melbourne
Mike Swain, School of Dentistry, University of Otago
Applied research
Garry Nervo, Pharmacology Dept, University of Melbourne
Roger Hall, Pharmacology Dept, University of Melbourne
Felicity Crombie, Melbourne Dental School, University of Melbourne
Bernadette Drummond, School of Dentistry, University of Otago
Clinical research
David Manton, Melbourne Dental School, University of Melbourne
Robert Anthonappa, UWA Dental School, Western Australia
Erin Mahoney, Wellington School of Medicine, Victoria University
Kim Seow, School of Dentistry, University of Queensland
Community & public health
Mike Morgan, Melbourne Dental School, University of Melbourne
Hanny Calache, Dental Health Services Victoria
Chris Olsen, Royal Dental Hospital, Melbourne
Rachel Martin, North Richmond Community Health, Melbourne
Peter Arrow, Australian Research Centre for Population Oral Health, Adelaide
Aghareed Ghanim, Melbourne Dental School, University of Melbourne
Hospital dental practice
Kerrod Hallett, Royal Children's Hospital, Melbourne
Loch Ramalingam, Royal Children's Hospital, Melbourne
Richard Widmer, The Children's Hospital, Sydney
Sally Hibbert, The Children's Hospital, Sydney
Yaso Ramadas, Starship Hospital, Auckland
Arun Natarajan, Christchurch Hospital, Christchurch
Harleen Kumar, Dental Hospital, Sydney
Paediatric dental specialists, private practice
Margarita Silva, Hawthorn East, Melbourne
Karen Kan, Kew, Melbourne
John Sheahan, Brighton, Melbourne
Marilyn Owen, Tasmania
Eduardo Alcaino, Burwood, Sydney
Philippa Sawyer, Crows Nest, Sydney
Peter Wong, Deakin, Canberra
Vicky Law, Chermside, Brisbane
Nymphia Naik, Maroochydore, Queensland
Wendy Cheung, Rose Park, Adelaide
Michael Malandris, Plympton, Adelaide
Rebecca Williams, Bicton, Perth
Tim Johnston, North Freemantle, Perth
Marilyn Owen, Hobart, Tasmania
Nina Vasan, Meadowbank, Auckland
Katie Ayers, CBD, Hamilton
Heather Anderson, Merivale, Christchurch
Dorothy Boyd, CBD, Dunedin
Orthodontists, private practice
Paul Schneider, Hawthorn East, Melbourne
Sean O'Callaghan, Ringwood & Box Hill, Melbourne
Sarah Lawrence, CBD, Melbourne
Amanda Leen, Geelong
Francis Wong, Brighton, Melbourne
Patty Medland, Benowa, Queensland
Visa Vasudavan, Claremont, Perth
Mark Ewing, CBD, Hamilton
Sax Dearing, CBD, Napier
Betty Keng, CBD, New Plymouth
General Dentists
Felicity Wardlaw, Camberwell, Melbourne
Ruth Paluch, Caulfield, Melbourne
John Kosta, Bendigo, Victoria
Don Anderson, Ballarat, Victoria
Louise Loughlin, Boonah, Queensland
Joanna Pedlow, Christchurch
Craig Waterhouse, Dunedin
MaryAnne Costelloe, Stratford
Dental therapists and hygienists
Julie Satur, Melbourne Dental School
Melanie Hayes, Melbourne Dental School
Amanda Fennessy, Warrnambool, Victoria
Robyn Watson, University of Sydney, New South Wales
Kylie Innes, Darwin, Northern Territories
Julie Barker, Brisbane, Queensland
Hellene Platelle, Perth, Western Australia
Medical Practitioners
Andrew Heggie, Royal Children's Hospital, Melbourne
Sharon Goldfeld, Royal Children's Hospital, Melbourne
Nigel Curtis, Royal Children's Hospital, Melbourne
Rebecca Goodman, General Practitioner, Melbourne
Graeme Wright, General Practitioner, Brisbane
Barbora de Courten, Monash University, Melbourne
Industry
Tony Peacock, Dentsply Sirona Australia, Melbourne
Sue Dafnias, ex Dentsply, Melbourne
Pamela Dalgleish, ex Dentsply, Mansfield, Victoria
Susan Cartwright, Colgate Oral Care, Sydney
Stephen Haynes, GC Corporation, Sydney
Patrick Jones, A-dec, Sydney
Sophie Lodge, Wrigley, Sydney
D3 Families
Luke and the Ditcham family, Melbourne
Tudor family, Melbourne
Rainone family, Melbourne
King family, Melbourne
Dumaresq family, Melbourne
Guy family, Melbourne
Ferre family, Melbourne
Swift family, Melbourne
Steven family, Melbourne
Bennett family, Sydney
Boucher family, Sydney